A Softball Love Story | Softball is For Girls
Love comes in many forms, and when it comes to softball – despite all the drama and excitement – love is one of the most prominent emotions. Love of the game. Love of our softball families. Love of the way our daughters look with dirt on their face. Love of the teammates. So, it's not surprising at all, that for one young woman – the softball field is where she learned the definition of love.
I grew up just outside of Memphis, and was led into the game by my older sister. By the time I was 12, I was playing travel ball, which is nothing like it is today, and landed on a great team that I would be on until I aged out. My teammates were all best friends, and we had the two best dad coaches in the world.
Looking back, I dont think it was always easy for my parents to pay for all the expenses that come with being committed to a team, but my mother would have it no other way. I ate so many peanut butter sandwiches, wrapped in plastic and pulled out of a weathered grey cooler – that I grew to hate them. Now, at the age of 32 – I love them all over again, and every bite brings me back to childhood at the softball field.
My mom loved sports, she loved competition and she loved seeing my sister and I play ball. My dad came to very few games, he was either working or had other things to do. He never quite understood the insistence of my mother to involve us in sports. Her thriftiness was likely part a product of not trying to upset my father even more by overspending on a 'hobby' he didnt approve of. Anything to NOT rock the boat. I didn't really know it then, but years later I understood that one of the reasons my mom loved getting us out in the world, trying new things and forging relationships was because my dad was not the kindest person to be around. He never abused me or my sister, or my mom for that matter – but he also didn't extend much love or compassion or empathy even for what we felt. Softball was a great way to escape living with a negative, narcissistic person.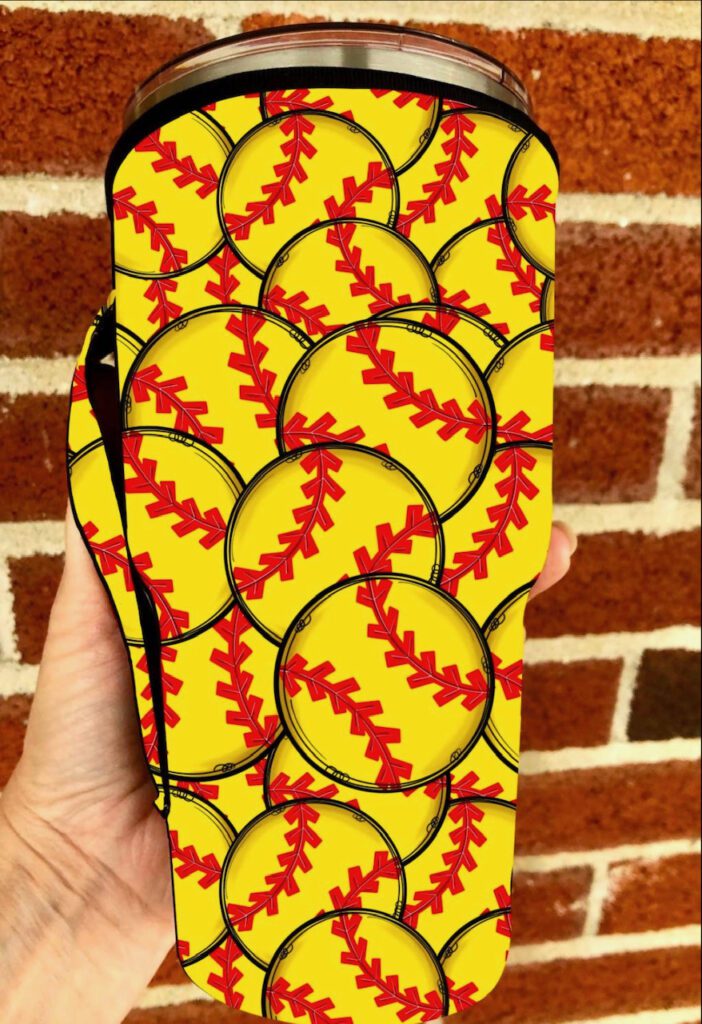 Coffe & Drink KOOZIES are IN STOCK!
My coaches were the most amazing men. It was through them that I saw the positive qualities of love, marriage and family that men are supposed to bring to the home. It's crazy, that while most of us live in by definition 'dysfunctional' families – we don't even realize it until we are grown. Maybe that's a blessing. I certainly didn't realize all the things that my mom and my sisters were missing out on until I saw the way my coaches treated their wives and children, and even the girls on the team.
During those formidable years, I watched these two men huffing down the coolers and carrying chairs for the women in their lives. I saw how they opened doors and despite being busy coaching, they took the time to check on their wives to make sure they were ok. I watched as they would interact with their daughters, support them and encourage them with so much more than a paycheck can bring.
As with any team, we spent a lot of time together. We stayed together on vacations, and I spent many nights at the homes of my coaches with my teammates. During those 6 years, I saw love. I saw love in the big things and I saw love in the little things. I paid such careful attention to how these two men cared for their families, and took mental notes of the easy ways they showed empathy, compassion and dedication to the women in their lives. I learned about chivalry, by watching it happen consistently first hand. I saw strong men with dirty fingernails that worked hard to provide for their families, but that were never too tough or preoccupied to be a partner to the others in their life.
I can remember the first time we took a team trip, and I saw one of my coaches holding hands with his wife while they walked through the mini-golf park, and the simple kindness of that simple gesture spoke to me.
There are literally a thousand things, a thousand interactions, a thousand acts of kindness between husband and wife, and parents and child that I witnessed throughout my time at the softball field. And each one, made an impact on me.
And to think, everyone thought we were just playing softball. Sometimes my mom would catch me watching and when I looked over at her, she never seemed sad – she would just wink and nod. I knew that in the only way she could think of, she was helping me to see the things I should expect from any male that was to be a part of my life. And she did this without ever saying a negative thing about my father.
My father wasn't a bad person, he was just from a different generation and way of thinking.
When I started dating, it was the qualities I saw from my coaches that I looked for in a partner. They had set the bar high through their example, and it made a huge impact on me. Today, I am married with a daughter of my own to a man who beholds the same qualities of the men I grew up watching. I think back and wonder had I not seen the examples of love and partnership and family through my days at the softball field, I would have never known what I deserved from a healthy relationship. I would have not even known what to look for, what was normal, and what the possibilities were when it came to marriage and family.
And that, is my softball love story. I hope that whomever reads this, realizes that whether they are in the dugout or on the bleachers and sidelines, there are eyes, very impressionable eyes – watching and learning about life through the examples you provide.
get sifg in your inbox
Receive occasional updates about sales, new products, coupon codes, and more!