Softball Deals & Steal | Softball is For Girls
It's almost time for the new season, which means that many of us are searching for new supplies, or cleats or bats that have been outgrown. We may have changed teams, changed colors, and all of the sudden we find out that there are a few things we need.
Today, we are bringing you some fun deals and steals from our partners and others that we have found around the internet. 
---
First! These Precision Impact training balls. No matter what age group you coach, or if you are a coach or a parent, these are an absolute MUST HAVE for your players. We tried them out for ourselves, and they are officially softball sized and make indoor practice as well as game warm ups in tight spaces a breeze. Our favorite part, is that not only is this 6-Pack the best priced slugs on the market, they are also offering Softball is For Girls Peeps a discount.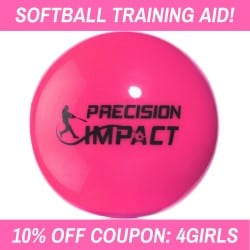 We started working with Eyeblack, when they designed us some amazing Type 1 Awareness Eyeblacks for our own team. Since then, they have come up with so many cool products for softball players that really just make being on the field more fun. The eyeblacks can be used as incentive for the girls, awareness, team spirit and they have fundraising options as well. Our favorite part is that they can design you some really cool CUSTOM products, and we know that all the girls love CUSTOM stuff. They are currently running a buy one get one free sale, and we suggest you load up now. 
VALENTINES DAY is coming! For many years we have worked with SPORTZ CRAZY MAMA, and have not only been their customers for our own players but have ordered and admired their products for the softball community. They make beautiful (and we mean beautiful)  handmade items, and their Softball Roses will not disappoint. (Or ROT!) Their customer service is second to none, and we are certain you will find something for your athletes. THEY TOO are offering a discount for Softball is For Girls Peeps. Use CODE SIFG2018 for 15% off but only through MONDAY 1/29 
Uniforms. If you have not ordered team uniforms yet, we STRONGLY recommend that you contact Two Five Apparel. They have been doing our personal team uniforms for years now, and they are the absolute BEST. Your uniforms will be completely custom, arrive quickly and the quality is fantastic. Plus they have tons of options whether you just want jerseys, or the full uniform.  Cost has been the same or less than going with our local uniform companies and we truly find their quality and attention to detail and customer service better than any other uniform company we have personally used in over 10 years! When it comes to team uniforms, you really get what you pay for as far as durability, look and quality and you will love Two-Five!
Sporty bella! This company is focused on GIRLS sports, and they offer some amazingly beautiful crafted items at great prices, with fast shipping. They do not currently have a coupon code, but they do have a chance to win discounts on their homepage. (We spun the wheel and got 20% off) and ended up buying this keychain for a beloved coach.
This is just a product we love, and NO, they are not a partner of ours. Frost GLOVE! Because cold hands suck. We could not find any coupons or deals for these, but if you sign up for their email newsletter you can receive 10% off. We will contact the company to see if they are willing to offer any deals to our fans. These are truly great batting gloves!
For our fans that are getting closer to making the collegiate dream come true (which is where we are at personally with one of our own children), we have come across an absolutely MUST DO resource. Softball scholarships will not pay all the bills and one of the most IMPORTANT aspects is education, grades and test scores. Jen Henson, is known as the GOAL DIGGER, and she and her math partner offer EXCELLENT, extremely affordable mini classes, sessions and tutoring (plenty of online opportunities) for the ACT test. And she knows her stuff!
If your athlete is considering college, trust us when we say that this investment will be worth returns better than any bat money can buy. And Jen is nationally sought after and results driven and her pricing cannot be beat!
Want Softball is for Girls to review your product or service? Willing to offer a discount code just for our softball fans and peeps?  Contact us at softballisforgirls@live.com and let us know what you got!
get sifg in your inbox
Receive occasional updates about sales, new products, coupon codes, and more!