Playing by THE RULES | Softball is for Girls
We need your support! Check out our amazing products and our MOST LIKELY to new line by clicking below.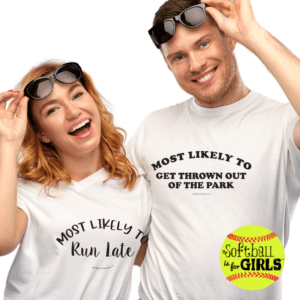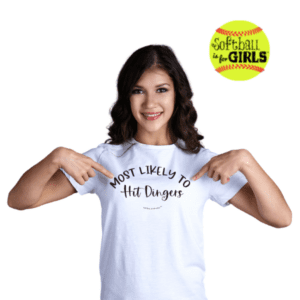 As spring season swings into gear, it is important to be sure that we are all playing by the rules! What rules? Softball parent rules, of course. We have only been to a few tournmanent this year and already we are seeing how many PARENTS dpn't know the rules. So here we go, and please feel free to share your favorite 'rules' as well.
Softball Parent Rules of Play! 
1. Move your asses after your game! Don't set up camp, don't grab everything you own and drag it up to the bleachers or fence line, don't pop up umbrellas if you are down in the front row or on the bleachers...AND WHEN YOUR GAME IS OVER, get outta there so the next group can watcher their team.
2. Don't yell at, or cheer against other kids, or say things derogatory toward them. Pretty much anything you have to say can be twisted into something positive.
3. Cow bells suck.. ((We know that is up for debate, and seems to be a georgraphical thing, but yuck!)) :)
4. If you bring an RV, don't take up more spaces than necessary, and especially not the 8 spaces in front of the park.
5. If you get cold and head to the car at night to watch, keep your healights off.
6. Try to stay away from the dugout as much as possible. Get those girls trained to take what they need and let them be..that is their place, and it is aboout them and for them.
7. Keep negative emotions and anger and frustration out of your kids ear during the tournament/games. If you are pissed off shove it down and don't try to talk your daughter in to being upset as well.
8. For the kids that don't drive themselves...Don't make your kids late. If coach wants everyopne back at a certain time, be back! If you don't think you will make it, leave your kid at the field.
9. Do the  very very best you can to NOT voice your negative opinions, or exasperations about the coach or the team to other parents on the team to try and get 'back-up' or to make yourself feel better. Save it for another time at least 24 hours after the game. That kind of mojo going around can ruin the day. \
10. Be nice to your kid. Softball is a game of failures. Even the very best make errors and strike out. Remember, you LOVE to watch her play.
11. MUSIC.....There is nothing better than a geeked up, jamming team and high energy - but if youre gonna play music....KEEP IT CLEAN (there are lots of little kids around) and be respectful to the teams that are playing around you, and your opponenet.
12. Only get pick-ups if you need them, not to up your chances to win so you can sit your own players. And pickups are there to help you, so don't charge them. (And pickups....dirty or stinky or not...give back your jerseys.
13. Look, coaching can tough stuff and frustating. Those gray hairs aren't there by accident! But being a bully, downright mean or cussing your players just makes you look bad - so shove that stuff back down to your bowels where it came from.
So WHAT DO YOU GOT to ADD? Of course we forgot the most important part...Have fun. These days too shall pass.
get sifg in your inbox
Receive occasional updates about sales, new products, coupon codes, and more!