My Daddy Is My Coach | Softball Is For Girls
For the last 16 years, my daddy has been my coach. Some call it daddy ball, which I think is a stupid phrase considering if it weren't for moms and dads willing to coach – there would be a lot fewer softball teams.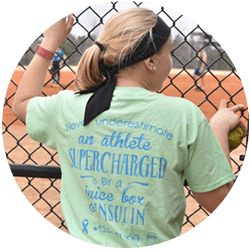 Today, I just want to set the record straight about what it really means when a dad is a coach, at least from the daughters perspective. 
I am a pitcher. Cliche, I know. But my dad did not start a team just so that I could pitch and get mound time. In fact, my dad expects more of me than any other pitcher on his team. And when we are home, and I am just relaxing, he is always the one knocking on my bedroom door asking me if I want to go outside and throw a bunch. "Your curve wasn't working so well last Saturday, don't ya think we should try and fix it," he would say. 
So I do. He on a bucket, and me on our makeshift pitching rubber in the yard working on my curve. If any of my pitcher friends were pitching he would be encouraging, and positive. But since it's me, and since he expects so much from me, his helpfulness feels like criticism. Some of our sessions end up with me leaving and running to my room with tears in my eyes, and then he and my mom argue that perhaps he is being too hard on me. 
On game days, I am always the first one there. On practice days, I am the last one to leave. While other kids can sneak out early without cleaning up the cages, or lugging buckets to the truck – I am left as my dads right-hand gal. Sometimes, a lot of the times, the other girls on my team get to take more batting practice than I do while I am stuck shagging balls. And they get to miss tournaments or practices because of dances or parties or previous engagements. But it's not that easy for me. I can't just skip out because I am tired, or because I want to hang out with friends. I can't just call in at the last minute and say I cannot play. I don't miss practice because my dad knows that would look bad on him. 
Daddy ball also often means that I don't get as much playing time as some of my friends. My dad is hyper-focused on me and my performance and while other girls may make multiple errors in the field, it only takes me to make 1-2 and I am pulled. Same with pitching. I think that my dad has heard so many underhanded comments about daddy ball, that he does everything in his power to make sure that he is not showing me any favoritism on the field. I don't know how many times I have heard "HEATHER WHAT WAS THAT," while I was playing, in a tone dads save only for their daughters that he would never use toward one of my teammates. 
And sometimes, it sucks when the coach is hard on your teammates, who happen to be your friends, and they get mad and take it out on you. Or, when they are whispering about my dad and don't want me to hear so they hide in corners and exclude me. And yes, I hear the things that other parents say about my dad too. Loud and clear. I hear the criticism, and I have heard parents call him a dumbass, and I have seen the sour faces on parents after we lose and they want someone to blame so they, of course, blame him. And that is painful, because I love my dad. 
What they don't see if the countless hours he spends making line-ups. The countless hours he spends scheduling tournaments and trying to work around schedules, and the countless hours he spends at the field with the team practicing. What they don't see if the private lessons he gives to my teammates who are struggling and need help. And still they whisper with discontent. They call him names when they don't like the line-up. Sometimes as we are walking to our car, they stop him and confront him right in front of me. Sometimes I lose friends over this, simply because my daddy is my coach, and my friends quit and never talk to me again, even though this has nothing to do with me. 
I have seen my dad pay for my teammates to play, buy uniforms or cleats for some of my friends because their parents couldn't afford it. We are not rich, but yet he shows up with a cooler full of snacks and drinks every tournament because he knows that some girls will have nothing. He insists I let my teammates use my new bat. And anytime someone needs a ride, he is usually the first one and sometimes the only one to offer, so I give up my bed the night before tournaments so that one of my teammates may play. 
It is not easy being the coaches kid. There are some days that I wish my dad wasn't my coach. But the truth is that him and I get to spend a lot of time together that otherwise we wouldn't. And even more important is that fact that my dad loves his team, his players, and no matter how tired he is, not matter how many things need to be done, there is no place he would rather be on the weekends than on the field with our team. 
My daddy is my coach. And from where I sit, he is a darn good coach. He may not be perfect. He is definitely harder on me than he is on any other person on my team. But I am grateful. Because when my team of 9 and 10-year-old girls moved up from Rec Ball and wanted to play travel, no one else volunteered to coach us up. No one thought we were good enough. No one else stepped up to the plate. No one else offered to help. But he did. And when he did, he jumped in with both feet, and showed me what commitment looks like. He showed me what compassion looked like. He showed me what it meant to be a coach, and to care about children and how important it is to try and make each of them a better person, on or off the field. 
So I play daddy ball. And judge as you may, I would not trade it for the world! I think instead of bashing 'daddy ball' and using it as some sort of dirty word that undermines softball, we should be thanking all the parents – who have plenty of other things to do, but who CHOOSE to step up to the plate and be a coach. 
So say what you will….but I play Daddy Ball, and I love it, and I am proud of my dad for being one of those dads who isn't afraid to step up! 
get sifg in your inbox
Receive occasional updates about sales, new products, coupon codes, and more!