Saying I Love You, Softball Style…| Softball is For Girls
Sometimes, love doesn't look like a Hallmark Card. In fact, most times it doesn't. It doesn't come wrapped up in a package with hearts, and it isn't spoken out loud with the common words we are all accustomed to hearing.
Sometimes, saying I love you, especially softball style – is more about what we do in the moment.
Even so, there are a million ways that softball players, fans, softball parents, softball coaches and softball teammates say I love you.
---
---
Below, you will see just a few of our favorite ways to say I love you!
"Hey dad, Will you come throw with me out in the yard? And he does, even though he is tired, and even though he wanted to watch the football game.
A text that says, "Hello dear – I found those red socks in the brand you love so much for Saturdays game." Because she knows that the other red ones bother your toes, and fall down when you run and she wants you to be comfortable.
Opening the cooler to find that someone packed your favorite snacks, sliced fresh strawberries, apple slices, and your favorite granola.
Family members who SHOW UP AT YOUR GAMES…no matter how hot, how cold. They come because they want to share in your passion!
Someone going to grab you lunch on a short break so you can stay at the field and rest AND bringing back your favorite Dunkin' Iced coffee. (And lunch. Chic-Fi-La, right?)
"Hey buddy, that was a phenomenal hit, I am so proud of you!"
Touching home base and running back to the dugout and having your coach tap your helmet and give you knuckles.
Victory HUGS…And even more important, the other hugs…you know – the ones you get from the peeps that meet you in the disgusting bathroom stall because they know you are upset.
"Do you want to use my bat?" When a teammate doesn't even have to ask….
The game is tight, and your coach yells – "Do YOU, do what YOU do, I believe in you kid!"
Waiting between games and never having to worry if there will be a fresh water bottle or gatorade, because even if your cooler runs out – the team parents are looking out for everyone.
"Hey KID…. DON'T Suck out there, ok?" IYNYK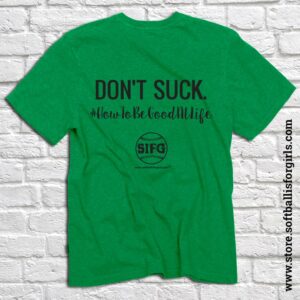 Canceling the family vacation to reroute it to a place you can play softball for the week.
Finding out your mom bought you the WAYYYYYYY overpriced tournament shirt because she wanted you to remember THIS day so much. (And because in barely readable teeeeny tiny letters your name is on it!)
Having a team get together and the parents give ALL THE PLAYERS new batbags, or team t shirts, or something fun to have as a surprise.
When a coach from another team takes the time to congratulate you for something awesome you did during the game.
An umpire taking a moment to tell you what a great kid he thinks you are, and how much he enjoys seeing you on the field.
Any set of bleachers in any park when a kid on the team hits a homerun….
It was $399. Way too much, they already spend enough money…but somehow, someway, they found a way to get you the new bat you have been wishing for.
Driving all over the place to find the perfect color belt, socks or undershirt at the last minute.
When it's not the best softball playing weather, but you get to the dugout only to find that someone left y'all a heater or a fan.
It was a bad day for you at the park, and you know it. At the end of the day, you get in the car and no one, no one – mentions anything how bad you did but ask you what you want to eat, and if you are in the mood for ice cream….
"Did you have fun? Are you having fun?" The people who care about that…they love you.
And our most favorite way to hear love you, softball style? When your kid looks up at you and simply just says, "Thank you!"
get sifg in your inbox
Receive occasional updates about sales, new products, coupon codes, and more!