Must Haves for the Softball Coaches Bucket | Softball Is For Girls
What are your go-to must haves for the softball coaches bucket?
Softball coaches carry around a lot of stuff! Some carry around so much stuff that they need a trailer just to store and transport it all. The idea of course, is to make life as easy as possible, and ensure that the coach is prepared for every single thing or condition that could arise. (Special kudos to the coaches who bring TV's and satellites for those Saturdays when the win streak continues and our favorite college football teams are playing) 
Today, we wanted to share some must haves for the Softball Coaches Bucket! 
The first two things we want to share are two of our personal all-time favorite products for coaches!
Both of these items are made by Precision Impact, and are definite MUST HAVES!
But we also want to mention that aside from being amazing quality, extremely useful especially for indoor use and crowded tournament venues, that Precision Impact is one of the very rare companies that doesn't believe baseball and softball are the same sport. 
So many companies today just include softball as an afterthought into their products. They ignore the size and the color of products for softball players, and expect softball coaches and players to just make do with baseball items.
But Precision Impact has truly gone the extra mile, and produces a product that is SPECIFICALLY for fastpitch softball. And that means a lot to us and it should to you as well!  The more WE, as a sport, invest in companies who put the needs of our girls FIRST and who RECOGNIZE those needs, the greater this sport will become! 
Not only are the size of the products right, but the colors match our sport as well. We, at Softball is For Girls, believe that companies who INVEST in our fastpitch players in this manner, and companies that truly pay attention to fastpitch softball players and coaches needs deserve some extra patronage. 
The New Squishy Balls
Precision Impact sent us a sample of the new squishy balls. They dubbed the balls as indestructible, and we had two teams put them to the test. Both an 18U team with powerful hitters and a 12U team. In fact, we challenged the girls to try to destruct them in some form. And they couldn't! These balls bounced back to shape, and were a great hitting tool to have on the field. We love that they don't fly too far, and that they are brightly colored so they are easy to find, even at dusk. (And if you are like most softball families, hitting in the yard often occurs after work at dark). 
The Squishy balls are not just true to size for softball players, but they are bright and colorful, lightweight and super easy to transport. They make it easy to do hitting drills on the sidelines when dividing your team into groups, and are a SAFE way to warm up hitters at tournaments. 
We will also mention that while the balls are indestructible, the pictures they may or may not hit on the walls of your house are not! HAHA! But they are great to use indoors, in basements, and we even practiced some handwork in our living room with them. 
Some other bonuses to these balls are: 
Inexpensive. Just $19.95 for a full set. (Precision Impact offers a 10% discount to Softball is For Girls fans using code 4GIRLS at check out)

Lightweight, and easy to carry. Balls are heavy, and multiple buckets of balls are REALLY heavy! This can easily replace one bucket of practice balls. 

Doesn't require a ton of room to use. 

SAFETY! When you are dealing with a lot of kids with bats and balls in one area, there is always a good chance of one or two getting randomly hit. These are super safe! 

SIZE MATTERS! As mentioned above, it is very difficult to find real softball sized practice gear! These are made specifically for softball players! 
Precision Impact also makes the Original SOFTBALL SLUGS! These are also an amazing tool, and we have had our bucket of pink softball sizes slugs over a year, and they are still going strong! (In fact, they probably should have made them a little less durable so we would need to buy more every season!)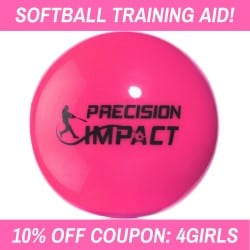 ---
---
---
This SHIRT Just for Coaches in on Sale this Week! NO CODE NEEDED! Snag one and grab a FREE helmet sticker while you're at it. 
Get involved!
Comments
No comments yet
get sifg in your inbox
Receive occasional updates about sales, new products, coupon codes, and more!