Does Size matter? | Softball is For Girls
TICK TOCK - Our Summer Ball LINE IS ABOUT TO DROP!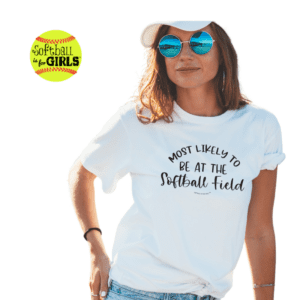 In softball, does SIZE matter? When we are talking about size, we are talking about the size of the girl playing the game?
We say it doesn't matter - but we are also quite confused about why so many people feel it is okay to make comments, concoct nicknames, judge talent, make assumptions like a player is slow or fast on the bases, based on the size of the girl.
In fact, last I heard - talking about the SIZE of females in general is just an unnecessary distraction, and to be honest is quite rude.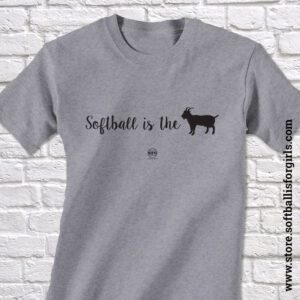 I was at the ballfield recently, minding my own business while a travel team was hosting a tryout. I was near the bleachers and overheard the coaches talking as they were evaluating the girls. They were speaking in private to one another, out of earshot of the kids - but words like BIG, tiny, overweight, slow, out of shape, huge for her age were whaffed around freely. One girl came walking up and the coaches chuckled, because she was close to 6 feet tall (this was a 14u tournament) and they quickly all agreed that she could probably be their 4 spot hitter.
Every single one of us has played a game, where the opponents were either much bigger than us, or much smaller - even jokingly questioned whether the girl drove herself to the ballgame.
There are always comments from behind the fence if a girl's size stands out. If a player has huge boobs in 12U, her age may be questioned as chuckles can be heard. When a little stringy sprout of a player comes to bat, coaches will holler "come in closer" assuming that because she is small, she will bunt and is fast.
Okay, so you get the point...And yes we are all guilty of that sort of judgement or inappropriate commenting, yet at the same time cannot stand it if judgements are made about our own kids if they are overweight, skinny, tall, short, matured ahead of schedule, slow, fast, etc.
SO LET US REMIND YOU. It is never okay, or necessary to judge a softball player based on her size. MORE SO, FEMALE ATHLETES (girls in general) have ENOUGH TO DEAL WITH WHEN IT COMES TO BODY IMAGE -THE LAST THING THEY NEED IS TO DEAL WITH IT ON THE BALLFIELD, TOO.
AGAIN, for the people in the back - LEAVE A KIDS SIZE OUT OF THE EQUATION. DON'T MAKE AN ISSUE OUT OF IT. DON'T MAKE RUDE COMMENTS, DON'T ASSUME ANYTHING and for the love of all things softball - DON'T TALK ABOUT IT AT THE FIELD.
It's infuriating. I am the mom of twins, and when they were just babies - people would always comment that one was BIGGER than the other? That went on for years, with one being 6 inches taller. Those types of words stick.
If a teenager girl is built with a thicker body, or is taller, or is overweight - chances are she already knows, and she already deals with her own demons about it. Same with the teeny tiny girls. Or the big breasted. Or the ones with big butts (which doesn't mean they are catcher)...
Can these young ladies just play ball and leave all the stress over body image behind? Can we please just STOP thinking it is okay to make comments about the size of kids. If it isn't your kid, it is NOT your business, so keep your mouth shut. Don't say things like, "she could run faster if she would lose some weight."
Take a look around this world. At clothing styles, at social media, at everything they are inundated with in regard to the way girls look. Back when I was a kid, people were upset that Barbie was shaped the way she was - but these girls have much more to deal with than a Barbie Doll. Then, add filters - and 98% of what they see during their impressionable years as they are trying to get confident in their own skin, is filtered and fake.
Female athletes are STRONG, and sometimes STRONG doesn't fit into a size 2. Female athletes work hard on their bodies to make themselves strong and competitive and capable - and yet people still feel it is okay to say things like, "wow her arms look like a mans..."
Today - we are asking you, BEGGING you - please be a part in stopping this judgement of girls based on their bodies... If you are at the park and hear people talking about players in this manner - be brave and interceded and remind them how rude it is... If your coach says things that are inappropriate - inform him or her (in private the first time) that there are certain things he/she doesn't need to say to kids.
Does Size Matter? Yes - but only when it is the SIZE OF THEIR HEART!
get sifg in your inbox
Receive occasional updates about sales, new products, coupon codes, and more!