Is Your Student Athlete Prepared for Recruiting – ACT TEST PREP
We, at Softball is For Girls are committed to making sure that the athletes who want to compete at the collegiate level, have the right information AND the information to make the best decisions. We have partnered with the amazing Jen Henson – to help you help your child do well on the ACT's. 
Remember, while the dream may be playing college (or any other sport) in college the reality is that there are many pieces to this puzzle that need to be addressed!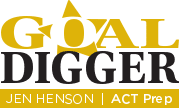 Taking the upcoming ACT test?
Join ACT test prep coach Jen Henson
 for a variety of upcoming classes. Topics include:
Dos and Don'ts for the night before and day of

Timing and pacing strategies

English and math specific content review.

Reading and science test strategies and content review

Printable packets and practice test PDF provided
Classes available via Zoom (app must be downloaded):
Whole test review 2/7   from 5:30-7:30 PM Central time ($90)
Reading strategy   2/17  from 10:30-11:30 AM Central time ($40)
English strategy     2/19 from 10:15-11:15 AM Central time ($40)
Science strategy    2/19 from 7:30-8:30 PM Central time ($40)
Whole test review 2/25 from 3:30-5:30 PM Central time ($90)
Whole test review 2/26 from 5:00-7:00 PM Central time ($90)
How do you register?
email jenniferchenson@msn.com with subject: "I'm joining the _____review on _____." OR text Jen at 859.380.5000 with that same information. Be sure to include the date and class type.

You will receive a confirmation. PayPal, Venmo or Zelle available
---
Facemask February is in full swing! We have this design (below) and a bunch of others up at the Softball is For Girls Store! You won't want to miss out.

get sifg in your inbox
Receive occasional updates about sales, new products, coupon codes, and more!